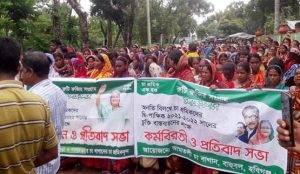 Moon Desk : The tea garden workers called off their ongoing movement on Saturday afternoon after their daily wage had been increased by Tk 25 to Tk 145.
The decision was taken in a meeting among higher officials of the government, officials of the Labor Department, garden owners, and tea workers in Moulvibazar`s Sreemangal this afternoon.
Confirming the matter, Tea Workers Union`s acting general secretary Nripen Pal said the workers, later, withdrew their agitation at the request of the Prime Minister.
Earlier, the tea garden workers went on work abstention for two hours every day from August 9 demanding a rise in daily wage up to Tk 300.
From August 13, they began full-day work abstention, and demonstration to press home their demands.