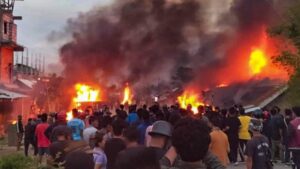 MT Desk: Around 40 suspected militants and two police have died in fresh violence in Manipur in northeast India, an official said on Sunday, confirming comments from the state's chief minister to local media.
Manipur has been on edge after an explosion of inter-ethnic violence this month killed at least 70 people and left tens of thousands displaced.
The state government official, who did not wish to be named, said that Manipur chief minister N. Biren Singh told reporters earlier on Sunday that security forces killed around 40 "militants" over the last two days.
"The terrorists have been using M-16 and AK-47 assault rifles and sniper guns against civilians. They came to many villages to burn down homes," local media quoted Singh as saying.
"We have started taking very strong action against them with the help of the army and other security forces. We have got reports some 40 terrorists have been shot dead," Singh was quoted as saying. A military source confirmed an uptick of unrest, and said four people had been killed in the past 24 hours.
"At least three armed miscreants, who were trying to set fire to empty houses, and fired at the security forces when they tried to stop them, died in retaliatory firing," the source said, declining to be named.
"One more armed miscreant was killed in Moreh and three others, including two security personnel, were injured," the source said.
The far-flung states of northeast India — sandwiched between Bangladesh, China and Myanmar — have long been a tinderbox of tensions between different ethnic groups.
On Wednesday, an indefinite curfew was re-imposed in the flashpoint Bishnupur district after suspected militants fired at a group of people, fatally wounding one person.
"Two persons, who had been living in a relief camp, were injured during the firing by the militants and one of them later died in a hospital," a local police officer, who did not want to be identified, said.Before the shooting, suspected militants torched some abandoned houses close to a relief camp set up for those displaced during the violence, the officer said.
The house of local minister Govindas Konthoujam was also attacked and ransacked when the family was away.