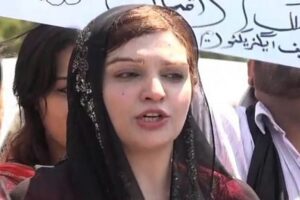 MOON Desk: Peace and Culture Organization Chairperson Mushaal Hussein Mullick urged the G20 countries to boycott their meeting India was holding in the UN-designated disputed area of Srinagar of Indian Illegally Occupied Jammu and Kashmir (IIOJK).
In a statement, Mushaal, who is the wife of incarcerated senior Hurriyat leader Yasin Malik, said that it was high time the world powers and UN bodies showed solidarity with innocent Kashmiri people.
She urged the international community to send a clear and unequivocal message to blood-thirsty Hindutva regime and expose the brutality of the notorious Narendra Modi government and press it to give the Kashmiris their birth right of self-determination.
"The G-20 states must remember that they will be seen as siding with the oppressor if they accepted Modi's invitation to the event in IIOJK," Mullick said, adding that the supremacist RSS-inspired regime had turned IIOJK into a killing field.
The Hurriyat leader told the G20 nations they should not forget that India was crossing all limits of barbarism and terrorism by committing worst crimes against humanity in the occupied territory.
She recalled that India's ulterior motives behind holding the bloc's meeting in Srinagar was to create false impression of normalcy in the region and try to legitimise its unlawful and illegal occupation of the area.
Therefore, she suggested that the world powers should boycott the meeting in Srinagar to foil India's nefarious designs. She also urged them to take notice of India's continued denial of the Kashmiris' right to self-determination.