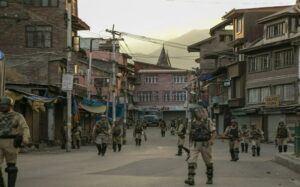 Moon Desk: In Geneva, speakers have expressed their concern over the continued illegal detention of Kashmiri political detainees languishing in different jails of India and India illegally occupied Jammu and Kashmir. The speakers addressing a seminar 'Plight of Kashmir prisoners' held on the sidelines of the 53rd session of the United Nations Human Rights Council in Geneva, said that thousands of detainees lodged in different jails were getting worse with every passing day.
They said that thousands of Kashmiris who were arrested before and after 5th August 2019 have been languishing in India's notorious jails like Tihar, which has become a death trap for Kashmiris.
They said that a sizable number of Kashmiris who were taken into preventive custody on 5th August 2019 continue to rot in Amphala, Udhampur, Hiranagar, Kathua, and Kot Bhalwal jails. The speakers said the Indian government has given a free license to its forces and agencies like National Investigation Agency (NIA) and Enforcement Directorate to arrest Kashmiris. They said dozens of top-rank political leaders, including Muhammad Yasin Malik, Musarat Aalam Butt, Shabbir Ahmad Shah, Nayeem Ahmed Khan, and Aasiya Andrabi were picked up from their homes and whisked off to prisons outside the valley.
"They have been actually abducted by NIA and ED and shifted to New Delhi's Tihar jail under frivolous and concocted charges," the speakers said, adding that scores of detainees including Dr. Qasim Fakhtoo, Dr Shafi Shariati, Ghulam Qadir, and many more were rotting in jails serving life terms.
The speakers, while referring to the conviction of prominent Kashmiri leader Muhammad Yasin Malik, said that Malik's conviction in a manifestly dubious and politically motivated case filed by the Indian National Investigation Agency, amply demonstrates how the Modi government was using the judiciary as a weapon to silence legitimate Kashmiri voices.
Referring to India's history of using the judiciary and other state apparatus to suppress the political and democratic dissent in the occupied territory, the speakers said that India, which had deprived Malik of his fundamental right to defend himself in the court of law after implicating him in a concocted case, was now hell-bent on eliminating him by using its judiciary.