Moon Desk: The German Chancellor, Olaf Scholz, will visit Saudi Arabia next Saturday, according to a statement released by the German embassy in Riyadh on Wednesday.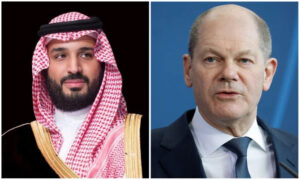 According to the statement, Scholz will meet with Crown Prince Mohammed bin Salman.
Meanwhile, Saudi Arabia's Crown Prince Mohammed bin Salman on Wednesday held successful mediation sessions to release ten prisoners from various countries as part of a prisoner exchange process between Russia and Ukraine.
The Kingdom's Ministry of Foreign Affairs said in a statement the move was based on the support of Prince Mohammed and in continuation of his efforts to adopt humanitarian initiatives toward the Russian-Ukrainian crisis.
The Saudi crown prince, who has continuously worked with global countries to mitigate the repercussions of the war, held successful mediations in releasing prisoners from Morocco, the US, UK, Sweden, and Croatia, where their release was part of a prisoner exchange between Russia and Ukraine, it added.
"The relevant Saudi authorities received and transferred them from Russia to the Kingdom, and are facilitating procedures for their safe return to their respective countries," the ministry added.
The ministry also expressed thanks and appreciation that the Russian and Ukrainian governments were able to cooperate with the Saudi government in facilitating and responding to the Saudi crown prince's efforts to release the prisoners.