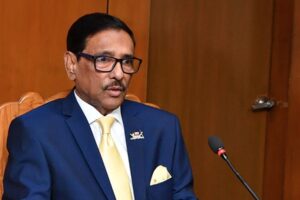 Moon Desk- Awami League General Secretary Obaidul Quader today urged the Juba League leaders and workers to get ready to give a befitting reply to the BNP`s anarchy, arson terrorism and misrules.
"You all should get ready as a befitting reply will be given to the BNP`s anarchy, arson terrorism and misrules," he told a youth grand rally at the historic Suhrawardi Udyan here marking the 50th founding anniversary of Awami Jubo League.
Quader, also the road transport and bridges minister, said if the BNP assumes power, its leaders and workers will swallow all things, including foreign loans, democracy and even Bangladesh.
Issuing a fresh warning to the BNP, he said there will be a game on the streets against the party which indulged in corruption, carried out arson terrorism and created fake voters.
Welcoming the Juba League, the AL general secretary said on August 15 in 1975, Jubo League founder Sheikh Fazlul Haque Mani was killed along Father of the Nation Bangabandhu Sheikh Mujibur Rahman and most of his family members.
Prime Minister and Awami League President Sheikh Hasina spoke at the rally as the chief guest, while senior AL leaders Amir Hossain Amu, Sheikh Fazlul Karim Selim and advocate Jahangir Kabir Nanak, among others, spoke.
Jubo League chairman Sheikh Fazle Shams Parash presided over the grand rally while Jubo League general secretary Mainul Hossain Khan Nikhil moderated it.
Industries Minister Nurul Majid Mahmud Humayun, Dhaka South City Corporation Mayor Barrister Fazle Noor Taposh, former Jubo League general secretaries Mirza Azam and Harunuru Rashid were present, among others.
Senior AL leaders, central, district and city Jubo League leaders and activists and eminent cultural personalities joined the rally.
Speaking on the occasion, Amir Hossain Amu said Father of the Nation Bangabandhu Sheikh Mujibur Rahman directed Sheikh Fazlul Haque Mani to form Jubo League and the organisation was turned into a strengthened one under Mani`s leadership.
AL presidium member Sheikh Fazlul Karim Selim urged Jubo League men to resolve its internal disputes as the AL has to win in the next national elections together under the leadership of Prime Minister Sheikh Hasina.
He said if BNP comes to power, they will again resort to arson terrorism and corruption and the country will go backwards.
"AL leaders and workers will be killed. BNP is the agent of Pakistan, they don`t want development of the country," he added.
AL presidium member Jahangir Kabir Nanak said Jubo League was on the street in all crises of the country and the party is ready to resist the anarchy of BNP.
Mentioning that the achievement of Bangladesh is now lauded around the world, Sheikh Fazle Shams Parash urged the Jubo League leaders and activists to remain united under the leadership of AL President Sheikh Hasina to protect the country from terrorism, misrules and corruption.