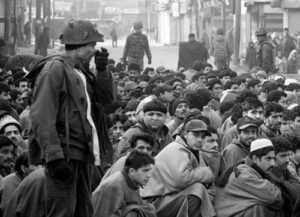 Moon Desk: All Parties Hurriyat Conference leaders have paid tributes to the martyrs of Chota Bazaar, Srinagar, on the occasion of their martyrdom anniversary.
Over 30 people, including women and children, were martyred when the personnel of Indian paramilitary Central Reserve Police Force (CRPF) opened indiscriminate fire in Chotta Bazaar area of Srinagar on June 11, 1991.
Syed Bashir Andrabi and Khawaja Firdous in a joint statement issued in Srinagar said that there was only one incident of Jallianwala Bagh massacre in the history of India, while during the freedom struggle of Kashmir, twenty such heart-breaking incidents have taken place at the hands of the Indian forces.
They said no power of the world can defeat the indigenous freedom struggle of Kashmiris and urged the United Nations Secretary General Antonio Guterres to take immediate notice of the ongoing genocide of the Kashmiris by Indian troops.
Paying tributes to the martyrs of Chota Bazaar, they said the sacrifices of Kashmiri martyrs would never be forgotten and the people of Kashmir would continue their struggle till taking it to its logical conclusion.
Meanwhile, APHC-AJK chapter leader Mushtaq Ahmed Butt in his statement in Islamabad paid rich tributes to these martyrs and reiterated the resolve to carry on the martyrs' mission till complete success.
He also urged the international community to take stock of India's ongoing human rights abuses against innocent Kashmiris.