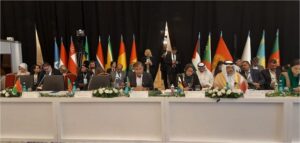 Moon Desk: Information and Broadcasting Minister Dr Hasan Mahmud on Saturday emphasized on proper publicity on Islam and Muslim Ummah in the global mass media and social platforms.
"OIC (Organisation of Islamic Cooperation) and its member countries could take different steps to present Islam before the world as a religion of peace and it doesn't support terrorism in the name of religion," he said.
The minister stated this while addressing the 12th Islamic Conference of Information Ministers (ICIM) of the OIC at Istanbul in Turkey on behalf of Bangladesh, said a release received here.
OIC Secretary General Hussein Brahim Taha and information ministers of the OCI member countries addressed the conference titled 'Combating Disinformation and Islamophobia' with Directorate of Communications of Turkey President Fahrettin Altun in the chair.
In his speech, Hasan highlighted the example of communal harmony and combating militancy in Bangladesh before the OCI.
He said a peaceful environment is prevailing across the country and people of all religions are performing their own religion rituals peacefully. The government of Prime Minister Sheikh Hasina has taken 'zero tolerance' policy as none could use the religion as weapon of terrorism, said Hasan, also Awami League joint general secretary.
He said Bangladesh has shown its unprecedented generosity and gave shelter more than 11 lakh Rohingyas and the government is providing human assistance to them amid the COVID-19 pandemic and the Russia-Ukraine war. But, misinformation is spread often about this, he added.
"I firmly want to say that repatriation of Rohingyas to their own country by giving them with full citizenship in Myanmar is the only solution. And it is better for all," said Hasan.
About the Palestine issue, the minister said Bangladesh believes that the formation of an independent sovereign Palestinian state is the only solution. "I hope that no national issue of any country can divert us from supporting an independent Palestine," he added.
He also highlighted the progress of the country amid COVID-19 and global recession, saying Bangladesh has achieved 6.96 percent growth in 2021 despite the Coronavirus situation and the economists are hoping that the growth will be 7.25 percent in the running year. The country's economy was vibrant during the COVID-19 situation due to the declaration of 23 billon US dollar intensive package as per the farsighted decision of the Premier, said Hasan.
Additional secretary of Information and Broadcasting Ministry Md Faruque Ahmed accompanied the minister.