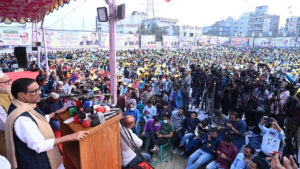 Special Correspondent: Awami League general secretary Obaidul Quader has said BNP fielded Ashraful Hossain alias Hero Alam as candidate in the by-polls in Bogura to demean the national parliament.
Referring to BNP secretary general Mirza Fakhrul Islam Alamgir's comment that Hero Alam has been defeated by using the state machinery, Obaidul Quader said "He (Fakhrul) thought Hero Alam would win but Hero Alam has now become zero. BNP fielded Hero Alam as candidate to undermine the parliament but Fakhrul's dream has now been shattered."
Quader made this remark while speaking at peace rally of Dhaka south city Awami League organised at Kamrangichar government hospital ground protesting terrorism, militancy, and evil politics of BNP-Jamaat.
By-polls in six constituencies which fell vacant after the resignation of BNP lawmakers, were held on Wednesday. Hero Alam contested from Bogura-4 (Kahalu-Nandigram) and Bogura-6 (Sadar) constituencies as independent candidate.
Hero Alam draw a fierce contest in Bogura-4 and got defeated by a slim margin of 834 to Awami League-led 14 party alliance candidate AKM Rezaul Karim Tansen. Hero Alam, who was ahead of Tansen majority of the time before the announcement of the results, at a press briefing on that night alleged that he has been defeated by election engineering. Later the election commission said they did not find any evidence of election engineering after the re-checking the results.
Quader's comment came as Fakhrul on Saturday alleged that Awami League had to use the state machinery against a candidate like Hero Alam.
Referring to Pakistan's economic situation, Quader said Bangladesh would bounce back under the leadership of Sheikh Hasina.
"But Bangladesh would become Pakistan if you go to power. We would not let Fakhrul sahebs turn Bangladesh into their beloved Pakistan," Quader added.
Presided over by Dhaka south city AL's president Abu Ahmed Mannafi, the party's presidium members Mofazzal Hossain Chowdhury Maya, Quamrul Islam, Mostafa Jalal Mohiuddin, joint secretary general Mahbubul Alam Hanif, among others, spoke at the rally.