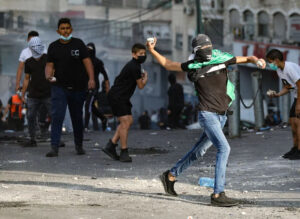 Moon Desk: Saudi Arabia has welcomed Australia's decision to reverse its recognition of West Jerusalem as the capital of Israel.
In a statement, the Saudi foreign ministry reiterated the Kingdom's "unwavering support" for the Palestinian people.
Saudi Arabia called for "unifying international efforts to find a just settlement for the Palestinian issue, in a manner that fulfills the aspirations of the Palestinian people to establish an independent state with East Jerusalem as its capital in line with the international law and the Arab Peace Initiative," read the ministry's statement.
Palestinians on Tuesday hailed Australia's decision as a "wise and courageous" decision.
Meanwhile, Two new land routes for camels, covering a total of 125 kilometers and leading to the site of the King Abdulaziz Camel Festival, are set to open in the Sayhid area, northeast of Riyadh, the Saudi Camel Club, and the Imam Abdulaziz bin Mohammed Royal Reserve Development Authority have announced.
Both organizations, along with the Ministry of Transport and Logistic Services, have completed their preparations for the Tahlia and Alhadab routes along the Riyadh and Dammam Highway, which is 125 kilometers long and two kilometers wide in the north.
Camel owners going to the camel festival via Alhadab from the southern side of the 85-kilometer-long reserve will be able to travel to the Sayhid on a route through the reserve to the Sayhid. Those traveling from the east will be able to use a 40-kilometer route along the Tahlia road via the "Erq Jham."
The maximum time that will be allowed for camel journeys is three days and traffic will be monitored by the Camel Club, the commission, and the Special Forces for Environmental Security.
"The equipping and opening of the routes is a major convenience to get to the venue of the King Abdulaziz Camel Festival in Sayhid in Ramah Governorate," the Camel Club said. "Owners will be able to accompany the camels with their vehicles."
The festival is an annual cultural, economic, sporting, recreational, tourism and entertainment event organized under royal patronage with the goal of promoting the significance of camels to cultural heritage in Saudi Arabia. It was founded in 2000 and this year's event will take place during the winter season. The Camel Club was taken over by the Saudi Camel Federation in 2018.
Permission to develop and use the new, safer routes was granted as part of an agreement between the Camel Club and the reserve's development authority that aims to support and preserve national heritage associated with desert life, and to promote sustainability and community awareness through the development of joint projects, programs and events at Imam Abdulaziz bin Mohammed Royal Reserve, King Khalid Royal Reserve and through the Camel Club.
The agreement also includes initiatives designed to support cultural programs, community awareness, and cooperation in efforts to build national capacities and provide training in the fields of desert life and culture, as well as camel-related national heritage.