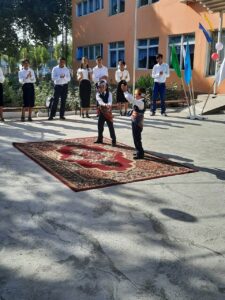 The most honorable of professions is teaching, and the greatest of the world's buildings is the school.
A school is a holy place, a place of learning that always invites students into its arms.
Science flourishes in the bosom of the school.
In the countries of the world, special attention is paid to science and education.
Everyone matures by studying education and science at school.
Our country's schools in Uzbekistan are among the enviable countries for their modernity and comfort, providing professional education.
Today we are going to tell you about general secondary school No. 23 with a 101-year-old history, located in Pop district, Namangan region of Uzbekistan.
Our school was founded in 1922.
Currently, more than 950 students study in our school.
Recently, the book "Holy Place" was published about the 100-year history of our school by the school's geography teacher Daniyor Mavjutov and poet, journalist and translator Jahangir Nomozov, a promoter of creative and cultural issues, winner of many international awards.
The past and present achievements of the school, which tells the story of 100 years of history, are included in this book.
Today, on the occasion of a special holiday, the presentation ceremony of the book "Holy Place" was solemnly held in our school
Shokhida KURBANOVA  is a teacher of Russian and German.