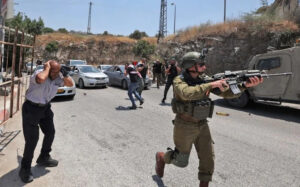 Human Rights Watch: European officials should stop 'reciting empty platitudes'. (AFP)
Moon Desk: Human Rights Watch has urged the EU and its member states to use next week's EU-Israel Association Council meeting to condemn Israeli crimes against humanity.
The meeting comes just weeks after Israeli authorities raided and ordered the closing of the offices of seven prominent Palestinian civil society organizations — some of which receive EU funding — despite objections from the bloc and its member states.
"Europeans should know they'll be shaking hands with representatives of a government committing crimes against humanity and outlawed prominent civil society groups challenging these abuses," said Omar Shakir, HRW's Israel and Palestine director.
"Pretending it's business as usual with Israel amid escalating repression sends the message that EU condemnation is worth little more than the paper it's written on."
Criticized by Palestinian, European and international NGOs, as well as 47 members of the European Parliament, next week's meeting will mark the first in a decade after they were paused following Israel's objections to the EU's position on West Bank settlements.
HRW, however, has said the bloc's position represents "empty platitudes" that fail to consider the human rights identified as essential within the Association Council.
Alon Liel, former director general of Israel's Foreign Ministry, told the press earlier this year that as long as the Europeans did not take concrete action, "Israel doesn't give a damn. It feels very confident this anti-human rights behavior will have no cost in the international arena."
In May 2021, EU member states abstained or voted against the UN Human Rights Council's establishment of an inquiry to investigate abuses and identify the root causes of the Israeli-Palestinian conflict, despite consistent voting to support accountability mechanisms in other contexts.
"The decades-long European failure to take action in the face of grave human rights abuses has emboldened Israeli authorities to brazenly escalate their repression of Palestinians," said Claudio Francavilla, EU advocate at HRW.
"Instead of reciting empty platitudes, European officials should use the Association Council to finally condemn Israel's apartheid and persecution and make clear there will be meaningful consequences should the Israeli government not reverse course."