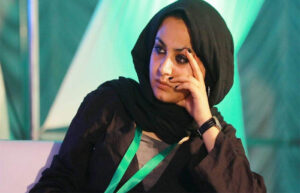 Muhammad Ullah: I am a professional journalist, I am reporting the truth and you cannot punish me for that. These are the words of Pulitzer Prize-winning Kashmiri photojournalist Sana Irshad Mattu. She has been barred from going abroad again. In a series of tweets, Sana Irshad claimed that she was on her way to New York to accept the Pulitzer Prize on Monday, but was stopped by immigration officials at the Delhi International Airport.
SHe was not allowed to travel despite his claim that he had a US visa and ticket. Sana Irshad said, I was prevented from traveling for the second time without reason. Despite contacting several officials about what happened a few months back, I have not received any response. Attending this award ceremony could have been the greatest moment of my life. While there was no official response from the Indian government on Sana's claim, Jammu and Kashmir police officials told news agency PTI that her name was on the no-fly list, which prevented her from traveling abroad.
Sanaa is a photojournalist for the Reuters news agency. SHe won the Pulitzer this year for photographing the second wave of Covid in India. He was announced as the Pulitzer winner on April 9. He was going to New York to receive that award. A resident of Srinagar, Sana Irshad has been doing photography in Jammu and Kashmir since 2018. Sana Irshad Mattu said, I was not given any reason why I was being stopped. I have been told that I cannot travel abroad.
Expressing his regret at being deprived of the honor of receiving the prize, he said, "It was an honor for the Pulitzer." It is every journalist's dream. When you are selected for this honor, every moment associated with it counts. But now they have taken away this happiness from me. They don't tell me why they are stopping me from going abroad… Honestly, I'm heartbroken.
Sana was first barred from traveling abroad in July this year. He was scheduled to fly from Delhi to Paris for a book launch and photography exhibition. He still said he had a visa, but the authorities still refused to allow him to go abroad. Sana wrote on Twitter at the time, "I was going from Delhi to Paris for book launch and photo exhibition. I was asked to go as one of the 10 awardees of the Serendipity Earls Grant 2020. He said, "Despite getting a visa from France, I was detained at the immigration desk at the Delhi airport. I wasn't told a reason for this, just told you can't travel internationally.
Since the cancellation of special status to Jammu and Kashmir in August 2019, pressure has been mounting on journalists working there. Three Kashmiri journalists are currently in jail in Jammu and Kashmir. They were arrested under strict laws like the Public Safety Act. A lookout circular has been issued against these journalists. That is, their names are also included in the no-fly list. At least four Kashmiri journalists have been barred from traveling abroad since 2019.
25-year-old freelance journalist Akash Hasan was barred from traveling to Sri Lanka in July this year. Akash said he was going to Colombo to report on the economic crisis in Sri Lanka. Aakash then wrote on Twitter, "I was made to wait for five hours, during which time I was not given a cup of tea or water." Later, my passport and boarding pass were returned with a red seal of rejection. After waiting for hours, I was told that I was not allowed to travel, he said. "I was not told any specific reason, but the airline staff told me that a lookout notice has been issued against me," he said. When I returned to Kashmir, I tried to talk to the authorities as to why this notice was issued.
Last March, journalist Rana Ayyub, who wrote for the US newspaper Washington Post, was not allowed to go abroad from the Mumbai airport. He was going to Britain at that time. He was scheduled to speak at an event at the International Center for Journalists. Rana Ayub was allowed to go abroad after a few days, but for this he had to knock at the door of the Delhi High Court. He was allowed to travel only after winning a court battle.
Akar Patel, the former head of Amnesty India, was barred from traveling to the US twice at the Bangalore airport last April. The reason for this is that Amnesty India was accused of violating the provisions of the Foreign Exchange Act during Akar Patel's tenure. Security agencies termed Akar Patel as a 'danger'. Later the court told them that he cannot leave the country without permission.
Indian-American journalist Angad Singh, who was nominated for an Emmy Award last August, was sent back to New York as soon as he reached Delhi. Although the Indian government did not officially say anything about it, Angad Singh's family alleged that his passport was confiscated at the time. Angad Singh's mother alleged that this was done to her because of a documentary she made. Angad Singh made this documentary on India's corona crisis and farmers for VICE News.
Loyal anthropologist Professor Filippo Ocella was flown back to London from an Indian airport earlier this year. For the last 30 years he was traveling back and forth to India. Professor Filippo challenged the Indian government's decision in the Delhi High Court, calling it biased and unconstitutional. He claimed that the government officials treated him like a criminal and did not give any reason why he was not allowed to enter. During the hearing of his case last week, the central government told the court that there was enough evidence against him and based on that he was blacklisted.
Jammu and Kashmir Director General of Police Dilbagh Singh told Indian Express in an interview in August this year that the decision to stop journalists from going abroad was a precautionary measure to prevent them from spreading 'toxic thoughts'. Dilbagh Singh told The Indian Express that there were some journalists who went abroad and started spreading 'toxic thoughts'. There are also some well-known media people. Some of them are also named here. Their position is in the middle, they are neither on the other side nor on the side of the people. So we are keeping an eye on such people as a precaution. "Putting them on a watch list means they shouldn't be allowed to travel abroad, so I think that's perfectly reasonable," he added. Such incidents have happened before. We cannot make it public.
None of the Kashmiri journalists who were not allowed to go abroad challenged them in court. They fear that if they do so, they may face the wrath of the government. Aakash Hasan said, he has no expectations from the court. He said, "We have seen in the past that courts have let down Kashmiri journalists in terms of justice." When three journalists are in jail and not getting bail from the court, they are kept in jail under strict laws like the Public Safety Act, I don't see any hope from the court in this situation.