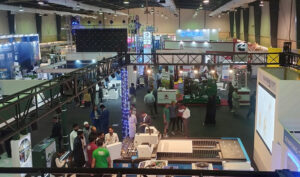 MOON Desk: More than 400 foreign and local companies displayed their products at the three-day Textile Asia Exhibition that opened its doors to participants at Karachi's Expo Center on Friday, aiming to revive textile industry of the South Asian country.
The exhibition is amid at boosting productivity of Pakistan's textile sector that has been facing multiple challenges, including a dollar liquidity crunch, at present, according to the organizers.
Delegates from China, Türkiye, Belarus, Germany, the United Arab Emirates, Taiwan, Japan and The Netherlands are participating in the exhibition and showcasing a wide variety of products.
"Four hundred and fifty companies from eight countries are participating in this exhibition that are helping revive the textile industry of Pakistan," Muhammad Uzair Nizam, the organizer of the exhibition, told Arab News on Friday.
"Pakistan needs dollars to basically help them continue the economic progress. This exhibition is helping achieve that aim of the government and of the textile industry of Pakistan to give them a boost."
The textile sector contributes more than 60 percent to the overall exports of Pakistan, but the country is facing continuous decline in its textile exports since October last year, according to the Pakistan Textile Mills Association (APTMA).
Due to the economic constraints in the past three quarters, the Pakistani central bank's foreign exchange reserves have dropped to a level barely able to cover four weeks of imports. As a result, letters of credit (LCs) used for imports are facing delays while being processed and priority is being given to essential items such as food and medicine.
Pakistani textile millers said on Wednesday the South Asian country will not be able to achieve its $26 billion export target for the current fiscal year amid an economic crisis in which manufacturers are struggling to obtain raw materials due to import restrictions.
Speaking at the exhibition, Zubair Motiwala, chief executive of the Trade Development Authority of Pakistan (TDAP), termed the current high cost of manufacturing as "terrible."
"If you are talking about the cost of doing business, cost of manufacturing, it is terrible, it is very very high," he said. "Increasing exports is the only way for bridging the trade gap and it would also improve the foreign exchange reserves position."
Tariq Yousuf, president of the Karachi Chambers of Commerce and Industry (KCCI), hoped that the economy would rebound after the current deterioration.
"Our economy is under pressure since November last year and now it is almost five months that we are facing this situation," Yousuf told Arab News.
"It has deteriorated gradually and now it has come to a level that it should go up. The exports have gone down that is also due to the reason that the price of dollar was not settled and our customers, both buyers and sellers, were not clear about the acceptance of the price of the product."
Foreign participants said they were looking to boost business ties with Pakistan and increase penetration in the local market.
"Here we came as part of our Belarusian delegation that consists of around 32 people to restart business with Pakistan," Diana Shurpakova, a marketing specialist at Belarusian state-owned oil refinery Naftan, told Arab News.
Among the foreign participants, a large number of Chinese companies were visible at the exhibition with latest manufacturing machinery.