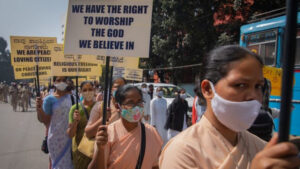 Md Jubair: Indian top political leadership had manipulated the 3rd June Plan 1947 and taken advantage of close personal relations with British Viceroy.
Indian leadership had given false assurance to the British government regarding the minorities' rights. Key Princely states and other minorities were coalesced to join Indian dominion.
Slogans of Secularism was a bogey- only to gain support of ethnic and religious minorities for a strong India under Brahminist authoritarian control.
Whereas, successful independence movement had followed forceful annexation of Kashmir, Goa, Assam, Hyderabad and Junagadh.
Non-implementation of promises with Master Tara Singh had deceived entire Sikh community after using them for Muslims genocide at the time of partition. Contention legislations- CAA, repealing Article 370 & 35 A, AFSPA, POTA has exposed mindset of Indian elites targeting minorities.
Indian fake union has kept hiding behind secularism for six to seven decades but not anymore. The secret plan of Chanakya's followers have come out in public.
The main purpose of Hindutva projection under state patronage leading to subjugation of minorities is now obvious to the world.
Growing realization in ethnic and religious minorities that India is a fake union. There is nothing in common, religion, ethnicity, language, culture, ideology- States cannot be tied together.