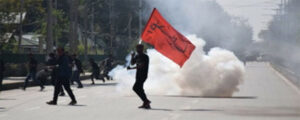 Moon Desk: Denial of permission for traditional 8th Muharram procession in IIOJK has exposed RSS backed Modi government's policies towards Muslims. BJP and RSS openly hurting religious sentiments of Muslims across IIOJK.
India is violating all basic rights, including right to observe religious rites, in IIOJK. Civil Society Forum Chairman, Abdul Qayoom Wani, in a statement issued in Srinagar demanded the opening of Srinagar Jamia Masjid and release of Mirwaiz Umar Farooq from illegal house detention.
Washington-based Indian diaspora group, Indian American Muslim Council in a statement said ever since the BJP-led Indian regime revoked Article 370, three years ago, extrajudicial killings, enforced disappearances, prolonged detention, torture, internet bans, severe restrictions on freedom of movement and other forms of persecution of Kashmir's eight million Muslims have increased manifold.
Even women participants of Muharram processions are being brutally assaulted in the occupied territory. "Fascist Modi is the Yazid of the time for the Kashmiri Muslims."
For IIOJK people, every day is a day of Karbala. The resistance against Indian occupation in IIOJK is a manifestation of Hussainy character.
Modi-led communal regime, which was shaping India's policy according to Hindutva dictates, has turned IIOJK into hell.
India in violation of international laws had been practically implementing its nefarious agenda of changing the Muslim majority status of IIOJK.
The international rights bodies must come forward to save the Kashmiri Muslims from Hindu fascism. In IIOJK, Kashmiris have been deprived of all freedoms including religious freedom.
Main Muharram processions have been banned in IIOJK since 1989. Anti-Muslims hatred has touched new heights in Modi's India.