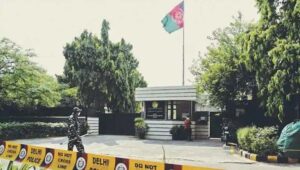 MOON Desk: Over two and a half years after the Taliban took over Afghanistan; the regime in Kabul has finally cracked the whip and directed a change in leadership in the Afghan embassy in New Delhi. Last month, Afghanistan Ministry of Foreign Affairs notified Mr. Qadir Shah, already serving as Trade Counselor to take over as Chief Envoy of Afghanistan in its mission at New Delhi but the incumbent ambassador Farid Mamundzay with the tacit approval of Indian Ministry of External Affairs has been resisting Mr Shah's appointment. MEA of India has not accepted Qadir Shah's credentials as ambassador so far. Thus Afghanistan embassy at New Delhi is still showing Ghani era tri-colour flag. Indian government has allowed Afghan embassy in Delhi to function as an extension of previous government on the same pattern as it did during Taliban's last stint in power between 1996 and 2001 – the embassy then continued to represent government of former president Burhanuddin Rabbani. A photograph of former president Ashraf Ghani is there in the building. Ghani fled Afghanistan as Taliban closed in on the capital after the collapse of his government. His photo also hangs on the wall of Ambassador Farid Mamundzay's office, which also still has the black, red and green tri-colour flag of the republic Ghani used to head.
Since the last 10 months they took power, Taliban sent ambassadors to a number of countries including Russia, Pakistan, China, Turkmenistan and Iran. However, Indian MEA has so far not allowed Emirates (Taliban) flag to be raised at Afghanistan's embassy at New Delhi. Episode shows that while India does not recognise Taliban government but contrary to that it set up a "technical mission" in Kabul. New Delhi, as learnt has been maintaining its anti-Taliban nexus with Younas Qanoni and with others who have been anathema to Taliban.
Reportedly, on 15 June 23, NRF and ex Jihadis delegation headed by Younas Qanoni have left Turkey for India. Their meetings with Indian officials are reported to be held. Such non-recognition makes it abundantly clear that India is still standing with Ashraf Ghani's regime and its remnants.Sequel to above episode in which Taliban appointed envoy is not recognized – 'question' arises with regard to presence of 'Technical Staff' (with diplomatic status) of India stationed at Indian Embassy at Kabul.The episode clearly shows that India has double standards towards Afghanistan which is the best
There are a number of corruption allegations against Ghani era ambassador Farid Mamundzay and other diplomatic staff currently stationed in Afghan embassy at New Delhi. On 14 December 2022, an Indian named Vivek Dixit, a head of an Indian company in a letter to PM of India stated to have been cheated/ made to suffer a loss of INR 22,500,000/ by Afghan ambassador in Delhi in various activities like government quotas, award of residential building on lease for commercial purposes & Afghan Culture Center including lease of two properties of embassy & an empty lot identified as Chaman. He has not been given the possession the same. Shams Rahman Qarizada, a representative of India based Afghans voiced concerns over widespread corruption/ malpractices at the embassy like case of transportation of wheat provided by India for the people of Afghanistan, passport validity extension requests by Afghans, collecting of aid from GoI for Afghan people.
In a document seen by ToloNews an Afghan national complained that he had paid $5,000 to the employees of the embassy to help him receive an urgent visa which he hasn't yet received. Sayed Habibullah Qureshi, an Afghan student who won a scholarship for education in India said: "The main reason for the cancellation of our visas and the main reason for us to be away from our education for two years is due to the corrupt activities of the Afghan embassy in India".
In a letter seen/ confirmed by Ariana News representatives of the refugees accused ambassador Farid Mamundzay; financial/ administrative officer Ziaullah Hashemi, and officer of the political department, Ibrahim Shakib Ayazi of financial administrative corruption and embezzlement. A similar letter sent to MoFA of Islamic Emirate of Afghanistan states: "Farid Mamundzay and diplomats named Hashemi and Ayazi have illegally leased two buildings which will be six apartments, and a free area called 'Chaman', making about half an acre of land to an Indian company without any legal process, permission or guidance from the capital (Kabul)".
Indian company sued Farid Mamundzay and Ziaullah Hashmi in Indian courts for forgery & corruption of 2.5 Indian crore. Plan of the Indian company is that after several years, based on decision of the Indian courts, about half an acre of land worth millions of dollars will be transferred into the company's name. With this the diplomatic properties of Afghanistan will lose their diplomatic status, the historical/ national capital of Afghanistan will be lost due to treachery of several corrupt and treacherous officials and Indian businessmen will subsequently grab these properties.