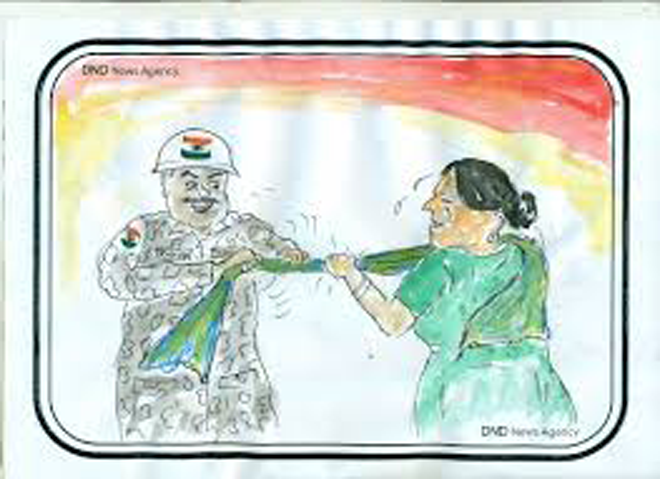 MOON Desk: Women are the worst victims of Indian forces' bar-barities in Indian illegally occupied Jammu and Kashmir as New Delhi is using rape as a weapon to suppress the Kashmiris' struggle for right to self-determination.
A report released by Kashmir Media Service on the occasion of International Day for the Elimination of Sexual Violence in Conflict, today, revealed that Indian forces' personnel had sexually assaulted over 11,259 women during the last 34 years in the occu-pied territory.
It said India is deliberately targeting women in IIOJK to humiliate and terrorize the Kashmiris. It said like Kunanposhpora mass rape, Shopian double rape and murder, and rape and murder of a minor girl in Kathua depict the brutal face of Indian forces deployed in the occupied terriory.
Around a hundred women were gang-raped by Indian troops during a cordon and search operation in Kunanposhpora area of Kupwara district on the night of February 23, 1991. Two women, Aasiya and Neelofar of Shopian, were abducted by Indian men in uniform on May 29, 2009, gang-raped and subsequently killed in custody. Their bodies were recovered from a shallow stream in the area the next morning.
An 8-year-old Muslim girl, Aasifa Bano was re-peatedly gang raped by Indian policemen and com-munal Hindus in Kathua area of Jammu in January 2018.
The report maintained that so far not a single Indian soldier or policeman involved in such heinous crimes in the occupied territory had been punished.
The report pointed out that Kashmiris would never forget the horrific incidents of mass rape in Kunanposhpora and several other such inhuman incident in IIOJK. It urged the world women rights organizations to raise their voice in support of the Kashmiri women.
Over two dozen women are facing illegal detentions and mental torture in jails.