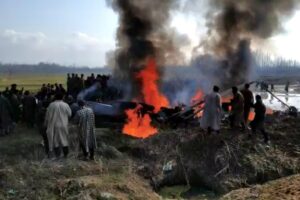 MOON Desk: India's top military court ordered sacking an air force group captain for a missile attack on a friendly Mi-17 helicopter on February 27, 2019, leading to the death of six servicemen and a civilian, according to an Indian media report published on Tuesday.
It said a General Court Martial (GCM) in New Delhi ordered the dismissal of Group Captain Suman Roy Chowdhury, the then Chief Operations Officer (COO) of Srinagar Air Force Station, for a missile attack on a friendly Mi-17 helicopter on February 27, 2019.
Five people including four Indian Air Force (IAF) personnel were killed in the helicopter crash in Budgam district of Indian Illegally Occupied Jammu and Kashmir (IIOJK) on February 27, 2019.The crash happened the same day when Pakistan Air Force (PAF) shot down two Indian warplanes after they intruded into its airspace while responding to a Pakistani aerial mission on targets inside IIOJK.
The Pakistani forces also managed to capture IAF pilot Wing Commander Abhinandan Varthaman, who was released only after two days in captivity in a peace gesture from Pakistan.
The Indian media report quoted the air force officials as saying that the findings of the GCM and the sentence was subject to confirmation by the IAF chief.
Group Captain Chowdhury is held guilty on five of the nine charges including not obeying the general order issued by country's Air Headquarters "which required all aircraft operating north of latitude 3200 N to operate with Identification Friend or Foe (IFF) on".
The report said the group captain permitted Mi-17 to get airborne from Srinagar without the IFF on and is held guilty of "assigning an inbound flying object to the missile unit at 10:10 am on February 27, 2019, at 23 km from the Srinagar base for engagement by the Mission Commander, Command and Control Unit of 2258 Squadron".
As a consequence, it said the assigned flying target, which actually was friendly copter Mi-17, was shot down by a "Spyder missile at 10:14 am".
Those who died included Squadron Leader S Vashisht and Squadron Leader Ninand M, Sergeant VK Pandey, Sergeant Vikrant Sahrawat, Corporal Pankaj Kumar, Corporal D Pandey, and Kifayat Hussain Ganie, a civilian on the ground and resident of Budgam district, according to the report.