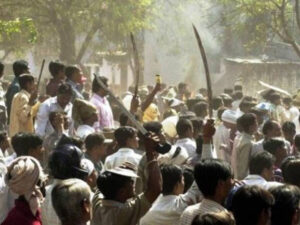 Md Nazrul: A court in Gujarat's Panchmahal district acquitted all 26 accused of gang rape and the murder of over a dozen Muslims in separate incidents in Kalol during the 2002 Gujarat riots for want of evidence in the 20-year-old case, Indian media reported on Sunday.
The court of additional session's judge of Halol in Panchmahal district, Leelabhai Chudasama, heard the case on Friday.
It was reported that of the total 39 accused, 23 had died while the case was pending and the trial against them was abated.The prosecution had provided the court with 190 witnesses and 334 documentaries as evidence in support of its argument. However, the court said there were contradictions in the witnesses' accounts.
According to reports, an FIR was registered against the accused at Kalol Police Station on March 2, 2002, a day after a mob went on a rampage in the communal riots that broke out in Gujarat on March 1, 2002.The FIR had been registered after the mob of 2,000 people clashed with sharp weapons and inflammable objects in the Kalol district of Gandhinagar. They had damaged shops and set them on fire.
During the violence, a man who had been injured in police firing and was being rushed to the hospital was burnt alive. The mob had attacked and killed another man coming out of a mosque and burnt his body inside the holy building. In another incident, 38 people fleeing Delol village and traveling to Kalol were attacked and 11 of them were burnt alive. According to the FIR, a woman was gang raped when she and others were trying to escape.Indian Prime Minister Narendra Modi was the chief minister of the western state of Gujarat when it was gripped by riots that left more than 1,000 people dead — most of them Muslims.