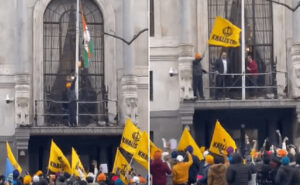 Muhammad Ullah: The Indian government has lodged a formal protest with the British government following the alleged vandalisation of the Indian High Commission in London, according to ANI news agency.On Sunday, the Indian High Commission in London was reportedly subjected to an act of vandalism as a group of individuals forcibly entered the premises and removed the Indian national flag.
"The senior-most UK diplomat in New Delhi was summoned late evening today to convey India's strong protest at the actions taken by separatist and extremist elements against the Indian High Commission in London earlier in the day," the Indian Express quoted a statement from the Ministry of External Affairs."An explanation was demanded for the complete absence of British security that allowed these elements to enter the High Commission premises. She [Deputy High Commissioner Christina Scott] was reminded in this regard of the basic obligations of the UK Government under the Vienna Convention," it said.
"India finds unacceptable the indifference of the UK Government to the security of Indian diplomatic premises and personnel in the UK," the MEA said."It is expected that the UK Government would take immediate steps to identify, arrest and prosecute each one of those involved in today's incident, and put in place stringent measures to prevent the recurrence of such incidents," it added.
Punjab — with about 58 per cent Sikhs and 39pc Hindus — was rocked by a violent separatist movement for Khalistan in the 1980s and early 1990s when thousands of people died.India has often complained to respective governments over the activities of Sikh hardliners who, it says, have been trying to revive the insurgency with a massive financial push.