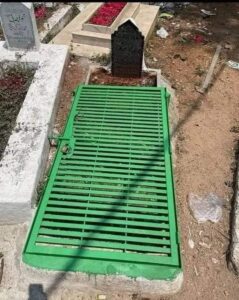 Moon Desk: Fact-finders discover that the grave is located in Hyderabad, India; locked to prevent numerous burials in one grave. In another attempt to peddle misinformation about Pakistan, India media outlets ran an unverified image of a padlocked grave stating that the practice was common in Pakistan for parents to protect the deceased bodies of their 'daughters' from being raped.
The 'story' was carried by most major Indian news outlets, including Asian News International (ANI), the Times of India, News18, Times Now, NDTV, and The Print.
The image gained considerable traction on social media platforms and was originally tweeted by Robert Spencer, director of Jihad Watch.
In order to verify the news, the image was cross-checked using the Google Maps street view services by fact-checkers who discovered that the picture was actually from a cemetery located in Hyderabad, India.
The cemetery is situated opposite to Masjid-e-Salar Mulk, a mosque in Darab Jung Colony, Madannapet in Hyderabad, India.
The graves were padlocked by families to prevent others from burying more bodies at the final resting place of their loved ones.
Pakistani netizens urged Indian media to focus on the increasing number of cases of violence against women in India, rather than resorting to false claims to defame and target Pakistan.