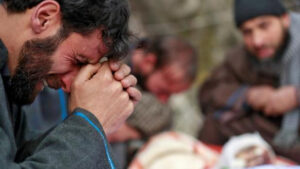 Muhammad Ullah: In Indian illegally occupied Jammu and Kashmir, Indian troops in their unabated acts of state terrorism have martyred over 750 Kashmiris since August 5, 2019 in the territory.
According to a report released by the Research Section of Kashmir Media Service, today, Indian troops have martyred 750 Kashmiris, including 14 women, since the abrogation of the special status of IIOJK by the Narendra Modi-led fascist Indian government in gross violation of the United Nations resolutions and international laws. It said senior APHC leader, Muhammad Ashraf Sehrai and Altaf Ahmed Shah were subjected to custodial deaths and the veteran resistance leader, Syed Ali Gilani, died while remaining under house detention for more than a decade.
The report maintained that most of the victims were killed in fake encounters and custody as youth were picked up from houses and then eliminated after being dubbed as mujahideen or over-ground workers of mujahid organizations. It added that at least 2,354 people were critically injured due to the use of brute force, pellets and teargas shells by Indian troops, paramilitary and police personnel on peaceful demonstrators and mourners in the territory. It said that the killings by the troops rendered 51 women widowed and 126 children orphaned during the period.
Dozens of government employees, mostly Muslims, were terminated or suspended from their services on fake charges and their support to the right to self determination while hundreds of properties, including houses, lands, offices and schools, were seized by the Bharatiya Janata Party regime in the territory since August 2019.
The report pointed out that the entire occupied Kashmir, which is under military and police siege, has been turned into an open-air prison and thousands of Hurriyat leaders, political and human rights activists, religious heads, journalists and businessmen were arrested after or before 5 August 2019 under black laws, and still continue to remain in Tihar and other jails of India and IIOJK. Prominent among them are APHC Chairman, Masarrat Aalam Butt, Muhammad Yasin Malik, Shabbir Ahmad Shah, Aasiya Andrabi, Naheeda Nasreen, Fehmeeda Sofi, Nayeem Ahmad Khan, Mohammad Ayaz Akbar, Peer Saifullah, Merajuddin Kalwal, Farooq Ahmad Dar, Shahid-ul-Islam, Molvi Bashir Ahmed Irfani, Bilal Siddiqi, Ameer Hamza, Mushtaq-ul-Islam, Abdul Samad Inqilabi, Dr Muhammad Shafi Shariati, Ghulam Qadir Butt, Dr Hameed Fayaz, Abdul Rashid Dawoodi, Mushtaq Ahmad Veeri, Abdul Majeed Dar Almadni, Muhammad Sharief Sartaj, Noor Muhammd Fayaz, Fahim Ramzan and Ghazi Moinuddin. Muhammad Yousuf Falahi, Dr Muhammad Qasim Fakhtoo, Syed Shahid Yousuf, Syed Shakeel Yousuf, Muhammad Yousuf Mir, Muhammad Rafiq Ganai, Hayat Ahmed Butt, Showket Hakeem, Merajuddin Nanda, Molvi Sajjad, Zafar Akbar Butt, Advocate Zahid Ali, human rights defenders Khurram Parvaiz, Muhammad Ahsan Untoo, journalists Aasif Sultan, Irfan Majeed, Sajad Gul and Fahad Shah. These detainees are the worst victims of political vendetta by the Modi regime. Senior APHC leader Mirwaiz Umar Farooq continues to remain under house detention in Srinagar.