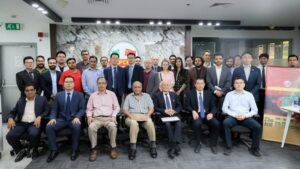 MOON Desk: The first-ever Infodor Salon—focusing on the CPEC Energy Sector—was held this Thursday at the All-Pakistan Chinese Enterprises' Association (APCEA) as part of the CPEC 10-year celebrations. This event showcased the growing opportunities in the CPEC Energy Sector and celebrated the friendship between Pakistan and China. Distinguished representatives hailing from various media outlets and energy enterprises graced the event, transforming it into an exclusive networking platform.
Mr. Sun Youcheng, Representative of the Executive Vice Chairman APCEA, Mr. Su Dong, APCEA News & Media Director, along with Mr. NA Zuberi, Senior Advisor from China Three Gorges, Mr. Li Hu, Deputy General Manager Huaneng Shandong Ruyi, Zou Wei, Deputy General Manager Admin Pak Matiari-Lahore Transmission Company (PMLTC), and Mr. Shu Changbao, Marketing Director, spoke at the event.
Director Infodor, Mr Fahad Gauhar Malik, highlighted the success story of the organization and its efforts to strengthen Pakistan-China friendship and CPEC through widespread media coverage and digital outreach. He also emphasized the credibility of Infodor among the masses.
"We will continue to support Chinese projects especially CPEC which has accelerated socio-economic development, job creation and improvement of people's livelihoods in Pakistan," he added.
Professionals discussed fostering authentic narratives about CPEC and strengthening the Pakistan-China relationship at APCEA's eclectic and bright venue.
Participants explored the untapped potential of the CPEC Energy Sector and its role in strengthening the partnership between Pakistan and China. Reliable information and innovative ideas remain crucial for CPEC narratives amidst the evolving global energy landscape.
The Infodor Salon on the CPEC Energy Sector is committed to promoting accurate and fact-based discussions while honouring the Pakistan-China friendship. It aims to reshape perceptions, empower stakeholders to make informed decisions, and deepen collaboration between the two nations.
The CPEC Energy Sector is set for constructive dialogues, strategic partnerships, and transformation that will shape the energy trajectory of the region and reinforce Pakistan-China friendship.