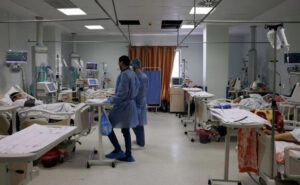 The Palestinian Ministry of Health in Gaza has accused Israel of preventing about 50 percent of patients in the Gaza Strip from receiving treatment
A ward in the Turkish-Palestinian Friendship Hospital in Gaza City, April 22, 2021. (AFP)
Moon Desk: For years, patients in the Gaza Strip have complained about the lack of medical services and their inability to receive treatment because of Israeli restrictions and the bureaucracy involved in medical referrals.
Mahmoud and his wife Rahma seem tired as they wait in front of the window of the Palestinian Authority's referral department to complete the procedure for Rahma's treatment at Augusta Victoria Hospital in Jerusalem.
Rahma has been suffering from leukemia for three years and has been receiving chemotherapy in Jerusalem, but each time she goes to the hospital, she needs to prepare new papers and submit a travel permit to the Israeli side in order to be admitted to the hospital.
"For three years, I have been ill, and my husband and I have had to navigate bureaucratic procedures in order to receive treatment," said Rahma Saeed, 43, a mother of three.
"Is it not enough that we suffer from a serious illness? Often there are no medicines in Gaza, and I have to go to the hospital in Jerusalem away from my husband and family," she told Arab News.
She accompanied her mother to the hospital because her husband was refused an Israeli permit to pass from Gaza to Jerusalem, she said, adding that sometimes she went alone without any attendant.
The Palestinian Ministry of Health in Gaza has accused Israel of preventing about 50 percent of patients in the Gaza Strip from receiving treatment.
In a press conference held by the Ministry of Health in front of the Erez Crossing that separates Gaza and Israel, officials said that the continuation of the Israeli blockade has "deprived Gaza Strip patients of their treatment rights due to a 40 percent shortage of essential medicines, 32 percent of medical consumables and 60 percent of laboratory and blood bank equipment."
They said that 1,922 patients could not reach the specialized hospitals in the West Bank, Jerusalem and Israel in time "due to the Israeli occupation's procrastination and the failure to issue permits."
The press conference heard that 371 patients left the Gaza Strip for treatment without anyone accompanying them and that this number was the highest since last April, including those who lost their lives alone in inhumane conditions.
Palestinian cancer patients must also endure months-long delays in receiving the necessary Israeli permits, delays that have led to the death of a number of them since the beginning of this year, said officials.
A Palestinian patient in the Gaza Strip must obtain a medical referral from the Palestinian Authority for treatment in hospitals in the West Bank, Israel and sometimes Egypt and Jordan. They also need an Israeli permit in order to pass through the Erez Crossing.
The Ministry of Health organized an ambulance march from the Indonesian Hospital in northern Gaza toward the Erez Crossing before holding the press conference to highlight the "Save Gaza Patients" campaign.
The ministry accuses Israel of preventing the entry of 21 diagnostic X-ray machines into hospitals in the Gaza Strip and the spare parts needed to repair 87 broken medical equipment, including 12 X-ray machines.
The press conference called for "international, humanitarian and human rights institutions today, more than ever, to put pressure on the Israeli occupation to end the siege on Gaza."
Rahma hopes to obtain her permit to travel to Jerusalem as soon as possible in order to complete her treatment and return to her husband and children in Gaza.