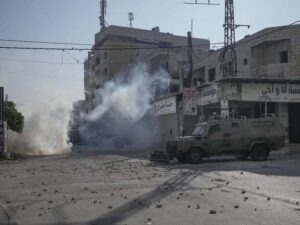 Palestinians clash with Israeli forces following an army raid in the West Bank city of Jenin, on Thursday
Moon Desk: The Israeli military on Thursday carried out its deadliest operation in the occupied West Bank in years, killing at least nine Palestinians including a 60-year-old woman, according to Palestinian officials.
The Palestinian Authority condemned the raid and announced that it was cutting off the usual security coordination between Palestinian police and Israeli forces. That's a step it's taken in the past but could increase the chances of further violence. It also said it hoped to take the matter to the United Nations Security Council.
Thursday's violence was the latest in an ongoing campaign over nearly 10 months of almost daily and often deadly Israeli military incursions into Palestinian areas of the West Bank to arrest suspected militants and confiscate weapons.
A United Nations official, who spoke on condition of anonymity in order to refer to internal statistics, said it was the deadliest single operation in the West Bank since at least 2005, when the U.N. started counting casualties there.
An Israeli military spokesman said troops raided a home in the Jenin refugee camp to apprehend Islamic Jihad militants planning an imminent attack in Israel, and that the soldiers came under fire. The spokesman said at least six of those killed were armed men — including some who opened fire at troops and others who had tried to flee.
Palestinian social media users shared photos of a Palestinian dairy truck which they said Israeli undercover troops used to enter Jenin on Thursday morning without drawing attention.
Palestinian President Mahmoud Abbas ordered three days of mourning with flags at half staff, and called an urgent meeting of the Palestinian leadership. In a statement, presidential spokesman Nabil Abu Rudeineh called it "a massacre carried out by the Israeli occupation government, in light of suspicious international silence."
U.S. Secretary of State Antony Blinken already had a trip to the region scheduled for early next week. After the Jenin raid, Assistant Secretary of State for the Near Eastern Affairs Barbara Leaf told reporters the U.S. was watching the events and urging both sides to de-escalate and calm the situation.
At least 29 Palestinians have been killed by Israeli troops in the West Bank this year, including the latest casualties Thursday. Last year, Israeli forces killed nearly 150 Palestinians in the West Bank, the highest number since 2004, including five women and 34 children, the youngest of them 12-years-old, according to Israeli human rights group B'Tselem.
"I am deeply alarmed and saddened by the continuing cycle of violence in the occupied West Bank. The deaths today of nine Palestinians, including militants and one woman, during an Israeli arrest operation in Jenin is another stark example," U.N. Special Coordinator for the Middle East Peace Process, Tor Wennesland, said in a statement. "I urge, and remain actively engaged with, Israeli and Palestinian authorities to de-escalate tensions, restore calm, and avoid further conflict."
Israel is considering deploying more of its Iron Dome anti-missile batteries in case Islamic Jihad militants retaliate with rockets from Gaza, an Israeli military spokesman said.