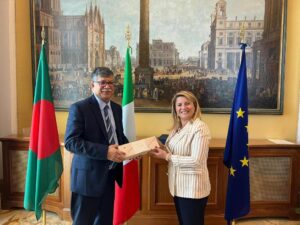 Moon Desk: Italian Undersecretary of Foreign Affairs and International Cooperation Maria Tripodi lauded the impressive socio-economic progress of Bangladesh in recent years. She made this comment when Ambassador Masud Bin Momen, Foreign Secretary (Senior Secretary) called on her on 07 June 2023 at her office in Rome, Italy, and briefed on the development journey of Bangladesh under the visionary leadership of Prime Minister Sheikh Hasina.
The Italian Undersecretary expressed satisfaction with the signing of the MoU on Bilateral Consultation between the two Foreign Ministries and the holding of the First Meeting of the Political Consultations earlier on the day between the two Foreign Secretaries in Rome.
While thanking the Italian government for inclusion of Bangladesh successively in the second year (2022) under the Flussi Decree for seasonal and non-seasonal employment of Bangladeshi workers in Italy, Ambassador Momen expressed deep appreciation for hosting the large Bangladesh community, the second largest in Europe after the UK. The Undersecretary deeply appreciated the Bangladesh diaspora for being peace-loving and hard-working. She felt that it would be mutually beneficial if Bangladeshi skilled workers could be brought into Italy through a formal mechanism for which both countries are currently working closely.
The Foreign Secretary appreciated the constructive position of the Italian government on the Rohingya issue and urged Italy to exert more pressure on the Myanmar government to take their nationals back.
Undersecretary Tripodi thanked the government of Bangladesh for hosting around 1.2 million Rohingyas.
Bangladesh's Foreign Secretary invited the Italian Undersecretary to visit Bangladesh to witness the development journey and the indomitable spirit of the nation which she accepted gladly.