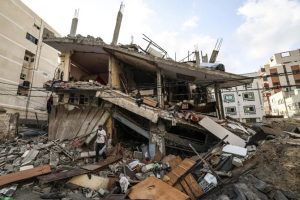 Moon Desk: Italy condemns the escalation of violence in Gaza and is "deeply concerned" about the news of casualties among Palestinian civilians, the Italian ministry of foreign affairs said.
The ministry said it "strongly condemns the launch of rockets toward Israel's territory and reiterates Israel's right to ensure the safety of its citizens," and "urges all sides to show moderation to prevent an escalation of the hostilities, which would cause further casualties and pain among civilians."
"This new wave of violence confirms once again the necessity to relaunch diplomatic efforts to reach a fair and lasting solution to the Israeli-Palestinian conflict," an official communique added.
"The situation is escalating badly and may bear unexpected consequences: This is just something we do not want to see in a global situation, which is already full of tensions due to the war in Ukraine and the China-Taiwan contest. This is why we believe that every diplomatic effort must be made in Middle East," a diplomatic source in the prime minister's office told Arab News.
The Italian Parliament is also concerned about the escalation in Gaza. Members of the foreign affairs committees of both Houses will meet in Rome on Tuesday to discuss the situation in a joint meeting.
"We are following with great concern what is happening at the border with the Gaza Strip. We must absolutely avoid the prospect of an escalation in the confrontation between Israelis and Palestinians on the border with the Gaza Strip," Stefania Craxi, senator for the Forza Italia party and chairperson of the Italian Senate's foreign and international committee told Arab News.
Craxi urged all parties to "work hard in order to foster a structured dialogue between both parts."
The Middle East, she said, was "thirsty for peace, and no one can ever believe that a conflict is unavoidable. We all must think that the more all this will go on the more all these tensions may be badly destabilizing for all the Mediterranean area. This would certainly have repercussions on a global level in a moment when all geopolitical balances seem to be redefined."
Piero Fassino, the member of Parliament for the Democratic Party who chairs the Italian Chamber of Deputies' foreign and international committee, told Arab News: "It is necessary now more than ever to do everything possible to prevent a wider conflict, which would affect civilians on both sides and cause more casualties and greater suffering."