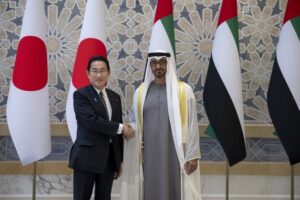 Moon Desk: Japanese Prime Minister KISHIDA Fumio arrived in the UAE's capital Abu Dhabi on Monday on an official visit.
According to the Emirates News Agency, Kishida and the Japanese delegation visiting were received at the Presidential Airport in Abu Dhabi by Dr. Sultan bin Ahmed Al Jaber, the UAE's Minister of Industry and Advanced Technology.
Kishida started his Middle East tour in Jeddah on July 16, where he reaffirmed close bilateral ties with Saudi Arabia. The Japanese PM will spend a day in the UAE and then continue to Qatar on July 18.
The secretary-general of the Organization of Islamic Cooperation paid a courtesy call on Prime Minister Kishida Fumio following the Japanese leader's meeting on Sunday with Crown Prince Mohammed bin Salman.
Meanwhile, in a statement, Japan's Ministry of Foreign Affairs quoted OIC chief Hissein Brahim Taha as saying that Japan was a friend that played an important role in the international community.
Kishida thanked the organization for the key work it carried out in several areas, including the development and prosperity of the Islamic world and its efforts to combat violent extremism.
The PM said that the appointment of the Japanese Consul General Shinmura to the OIC in May last year would further help strengthen Japan's relations with the body.
Acknowledging the appointment, Taha said he would like to increase cooperation on poverty control, development, education, the status of women, Afghanistan, and violent extremism.
Kishida and Taha agreed to develop "long-standing friendly relations" between Islamic countries through various links.
At the end of their meeting, Kishida presented works by Honda Koichi, one of Japan's leading Arabic calligraphers.