Journalists' Union organized a human chain to protest the killing of journalist Nadeem in Magura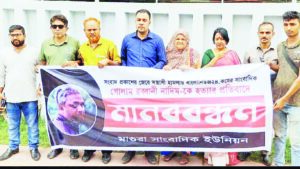 Faruk Ahamed, Magura: Journalist Union has formed a human chain in Magura to protest against the killing of journalist Ghulam Rabbani Nadeem in Jamalpur. A human chain was organized in front of the Magura Press Club at 12 noon on Sunday. Magura Journalist Union President Journalist Md. Ashraful Alam Sagar, General Secretary Journalist Md. Akram Hossain Ekram, Joint Secretary Journalist Md. Farooq Ahmed, Advisor Journalist M. Ferdous Reza, Joint General Secretary Journalist Mizanur Rahman Rentu, Member Utsav Journalist Mia, and others gave a speech on this occasion. Also present were Dainik Khabar Bangladesh Mobile Correspondent Journalist Md Roni Ahmed Raju, Journalist Shamim Sharif, Asia TV District Representative Journalist Imrul Haque, Journalist Miraj Ahmed, Journalist Shimul Rana, Journalist Maruf Hasan, Journalist Rashid Hossain. At that time, various journalists and social workers from the district and upazila levels were present. Speakers in the human chain demanded exemplary punishment for those involved in Nadeem's murder.
It should be noted that the deceased journalist Golam Rabbani Nadeem was a Jamalpur Correspondent of BanglaNews 24 and Upazila Representative of Private Television 71 TV. He is the son of Abdul Karim of Gomerchar village of Nilakhia Union of Bakshiganj Upazila.