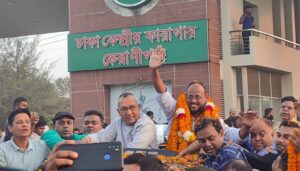 Staff Correspondent: Jatiyatabadi Jubo Dal, the youth wing of main opposition BNP, president Sultan Salahuddin Tuku has been released from jail on bail after two months of imprisonment.
He was freed from the Dhaka Central Jail at Keraniganj on Thursday afternoon. At that time, a large number of leaders and workers including Jubo Dal general secretary Abdul Monaem Munna welcomed him with flower bouquets.
Tuku was arrested from Amin Bazar area in the capital at night on December 3 last when he was returning to Dhaka from a BNP's rally in Rajshahi city. At that time, Jubo Dal central vice-president Nurul Islam Nayan who was in the same car was also arrested.
Meanwhile, Nayan was released at about 7:45pm on Tuesday (January 31) from the Dhaka Central Jail in Keraniganj.