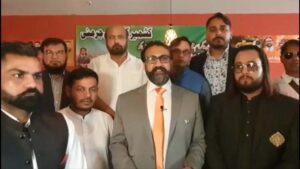 Qazi Mizan: The first Kashmir Conference organised by the Pakistani community was held in an East German city on Monday.Officials of the Pakistani Embassy in Berlin and a large number of Pakistani nationals attended the conference.
Deputy Ambassador Sarah Khan while addressing the conference said that Kashmiris had been waiting for justice from the world for the last 74 years."We stand with Kashmiris in every field. We will not leave Kashmiris alone. Kashmir is the jugular vein of Pakistan. One cannot survive without it," she said.
Other speakers present on the occasion said that they would continue protest movements till the independence of Indian Illegally Occupied Jammu and Kashmir (IIOJK)."August 5, 2019, was tantamount to snatching the freedom of Kashmiris," said one of the speakers.Occupied Indian forces martyr five Kashmiri freedom fighters in IIOJK
The Kashmir Conference unanimously approved a resolution against Indian aggression. It maintained that the status of IIOJK before August 5, 2019, should be restored and the changes made in the law should be withdrawn.