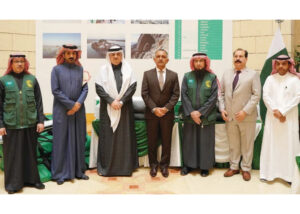 International Desk: The King Salman Humanitarian Aid and Relief Center has started a project to provide shelter materials in winter aid bags for the most vulnerable families affected by the floods in Pakistan.
The launch of the initiative was attended by Nawaf bin Said Al-Malki, the Kingdom's ambassador to Pakistan; Lt. Gen. Inam Haider Malik, the head of Pakistan's National Disaster Management Authority; and other officials, at Saudi Arabia's Embassy in Islamabad.
The project will supply 15,000 bags, weighing 190 tons. These will contain basic shelter materials to be distributed in eight affected areas. Some 175,000 people, or 15,000 families, will benefit from the aid.
Al-Malki said that the project came under the implementation of the directives of King Salman and Crown Prince Mohammed bin Salman, and continued support provided by the Kingdom to Pakistan since the start of the flood disaster last year.
He added that the aid showed the keenness of the Saudi leadership to stand with the Pakistani people in times of crisis.
Malik thanked the Kingdom's leadership and government for the humanitarian support, indicating that the aid was timely as authorities continue the process of rehabilitation and reconstruction in Pakistan's flood-affected areas.