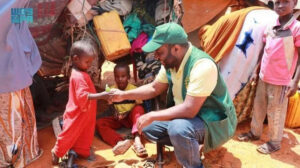 MOON Desk: Saudi Arabia's King Salman Humanitarian Aid and Relief Center (KSrelief) have been ramping up aid efforts in Lebanon and Somalia.
Funded by KSrelief, the Ambulance Service of Subul Al-Salam Social Society in Miniyeh Region, Northern Lebanon, carried out 63 emergency missions in the past week, the Saudi Press Agency (SPA) reported.
The missions included the transfer of patients to and from hospitals and ambulance services to those injured in traffic accidents in the city of Miniyeh. These are part of the center's efforts to support health services and ambulance transports in the refugee areas, SPA added.
In Somalia, the organization distributed 4,000 food baskets to 24,000 displaced people and those affected by drought in Jubaland State.
Meanwhile, the US Agency for International Development (USAID) has donated $7 million to the UN Population Fund (UNFPA) for aid that will help more than one million vulnerable women and girls in Yemen in the coming 12 months, the Yemen News Agency (SABA) reported.
The aid is intended to improve reproductive health services in eight hospitals, four portable clinics, as well as six safe areas for women and girls.
The UNFPA said that there are approximately 6.5 million Yemeni women and girls that lack preventive and treatment services from gender-based violence, SABA reported.