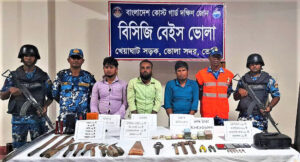 Bhola Correspondent: Coast guard has arrested 3 robbers with indigenous weapons in the Meghna River under Bhola district. Media officer of the Coast Guard Headquarters Lieutenant Commander Khandaker Munif Taqi gave this information on Wednesday morning.
He said that on Tuesday at approximately 1800 hours, a special operation was conducted by BCG Base Bhola under Bangladesh Coast Guard Southern Zone under the leadership of Sub Lieutenant M Fazlul Haque in Banger Char area of ​​Meghna River in Bhola district. In the operation, 02 other robbers including the head of Bahadur's force, Ali Azgar alias Bahadur, were arrested from the hideout of the robbers. Meanwhile, the hideout of the robbers was searched and weapons making equipment, 01 projector and 06 memory cards were seized, but on sensing the presence of the Coast Guard, they threw away several of the illegal weapons used by them in the tidal water. The detained persons are Ali Azgar alias Bahadur (40), father: Golam Mostafa, Iqbal Hossain (24), father: Abul Kalam and Sheikh Farid (38), father: Ajut Sikder, all residents of Sadar Upazila of Bhola district.
He further said that later the recovered domestic weapons and other evidence and the arrested robbers were handed over to Bhola Sadar Police Station for taking legal action.