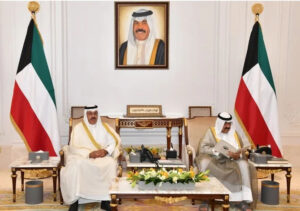 Kuwait Prime Minister Sheikh Ahmad Nawaf Al-Sabah offered his government resignation to Kuwait's Crown Prince Sheikh Mishal Al-Ahmad Al-Jaber Al-Sabah. (KUNA)
Moon Desk: A Kuwaiti Emiri decree accepted the government's resignation, the Kuwait News Agency (KUNA) reported on Sunday.
The Emir has asked the government to stay on in a caretaker capacity, the statement on KUNA added.
Kuwait's government submitted its resignation on Sunday; state news agency (KUNA) reported, following a parliamentary election in the country.
Crown Prince Sheikh Meshal Al-Ahmad Al-Sabah received the government's letter of resignation from Prime Minister Sheikh Ahmad Nawaf Al-Sabah, KUNA reported.
Earlier, Kuwait has urged the international community to push Israel to join the Nuclear Non-proliferation Treaty and allow the International Atomic Energy Agency's experts to examine its nuclear installations, according to the Kuwait News Agency.
Kuwait's ambassador to Austria, Talal Al-Fassam, who is also Kuwait's permanent representative to the International Organizations in Vienna, was speaking at a debate regarding Israel's nuclear capacities at the IAEA's 66th annual conference, and stressed the need for the IAEA's policy-making agencies to keep discussing the topic.
At the same conference, Egypt proposed a draft resolution that would apply the IAEA's safeguard procedures to the Middle East. The resolution was adopted by the attendees with 117 votes in favor, seven abstentions and Israel's opposition.
KUNA said the resolution underscored the urgent need for all Middle Eastern countries to accept the implementation of the safeguards to build confidence among regional countries, and to boost peace and security as a step toward ensuring that there are no nuclear weapons in the Middle East.
Attendees also decided to step up international cooperation on the safe transfer of nuclear and radioactive waste. They also expressed support for the IAEA director general's plan to safeguard the Ukrainian nuclear plant in Zaporizhzhia.
The conferees also urged Iran to cooperate with the IAEA and acknowledge the presence of uranium residues, recently discovered by IAEA experts in the country.