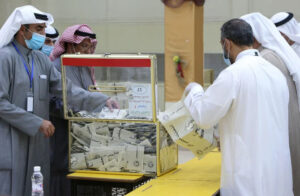 Moon Desk: Kuwait will hold parliamentary elections on Sept. 29, state news agency (KUNA) reported on Sunday.
A ministerial decree published in the official gazette on Sunday called on voters to cast their ballots on Sept. 29.
The Ministry of Interior said those wishing to run for the elections can register their nominations at the elections affairs department starting Monday.
The candidacy process will last for 10 days, said Kuwait's Center for Government Communication.
Kuwait's cabinet had earlier approved adding new precincts to four voting constituencies based on geographic proximity and governorate affiliation as part of measures to ensure transparent and legal elections that represent the will of the voters.
Voters will also be able to use their national IDs to cast their ballot in the upcoming parliamentary elections.
Earlier this month, Kuwait had formally dissolved the parliament, with the Crown Prince Sheikh Mishaal Al-Ahmad Al-Sabah calling for early elections.