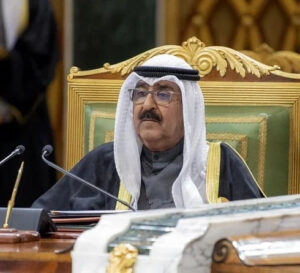 Moon Desk: uwait's crown prince Sheikh Meshal Al-Ahmad Al-Sabah is to attend parliament's opening session on Tuesday after elections on Sept. 29, state news agency KUNA reported on Monday.
The crown prince took over most of the emir's duties late last year.
Sheikh Meshal approved in a decree on Sunday the reshuffle of the new Cabinet led by the country's prime minister.
Prime Minister Sheikh Ahmad Nawaf Al-Ahmad Al-Sabah took oath before the crown prince, according to to KUNA.
"You have before you major issues and many files which are of great importance to us. Each one of you has to apply the law in a fair and equal manner, boost integrity and transparency, execute issues of priority for the political leaders and faithful people of Kuwait," the crown prince said in an address to the ministers.
The crown prince urged the new government to execute development projects, improve healthcare and education, provide housing units, and tacks corruption, KUNA reported.
The foundation of the government's actions must be based on loyalty to Kuwait and the Emir, respect for the constitution and application of laws, the protection of the freedoms, interests, and funds of the people, the crown prince added.