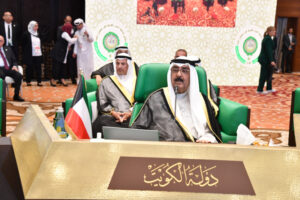 Crown Prince Sheikh Mishal Al-Ahmad Al-Jaber Al-Sabah heads Kuwaiti delegation in Arab Summit. (KUNA)
MOON Desk: Kuwait takes a great interest in issues concerning the Arab world, particularly efforts to combat terrorism and extremism, its crown prince said on Wednesday.
Speaking at the Arab Summit in Algeria, Sheikh Mishal Al-Ahmad Al-Jaber Al-Sabah also reiterated Kuwait's call to find a comprehensive and permanent solution to the Israeli-Palestinian conflict in accordance with international law and the Arab Peace Initiative, and ensuring the establishment of an independent Palestinian state with East Jerusalem as its capital, the Saudi Press Agency reported.
The crown prince also expressed his nation's support for Algeria's efforts to achieve Palestinian reconciliation, calling it an important step in light of the political circumstances.
On Syria, Sheikh Mishal said Kuwait supported a political solution that meets the aspirations of the Syrian people while maintaining the country's security, sovereignty and territorial integrity.
On Yemen, he emphasized Kuwait's rejection of the Houthi militia's position to extend the armistice and urged the UN special envoy to Yemen to continue working toward a political solution to the crisis.
He also called the Houthi militia's terrorist attack on the oil port of Al-Daba in Hadhramaut a "flagrant violation" of international norms, and urged the international community to take action to maintain peace and maritime security, and hold the perpetrators accountable.
Meanwhile, he commended the efforts being made to help the Yemeni people, and establish security and stability. He also underscored Kuwait's support for the Arab League's role in resolving the conflict and finding a diplomatic solution to the crisis.