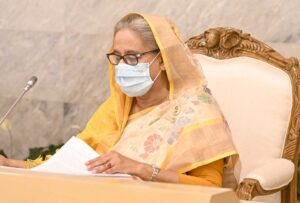 Moon Desk: Prime Minister Sheikh Hasina will leave here for Doha, the capital of Qatar, tomorrow to attend the 5th United Nations Conference on Least Developed Countries (LDC5: From Potential to Prosperity).
In the conference, Bangladesh is expected to seek global supports for its smooth LDC graduation. The event will be held on March 5-9 in Doha, which appears to be Dhaka's last participation as a member state of this group as Bangladesh is set to graduate out of the forum by 2026, said a foreign ministry spokesperson.
Sheikh Hasina will lead a high-level delegation and hold a bilateral meeting with her Qatari counterpart apart from her participation at the LDC5 conference.
During her stay in Qatar till March 08, she is scheduled to have a meeting with the Emir of Qatar. Bilateral issues, including cooperation in the areas of energy sector will come up for discussion.
A VVIP flight of Biman Bangladesh Airlines, carrying the premier and her entourage, will depart Hazrat Shahjalal International Airport at 11am tomorrow, which is scheduled to land at Hamad International Airport, Doha at 2:30pm local time (Doha time).
On the same day (Saturday afternoon), Sheikh Hasina is scheduled to have separate meetings with UN Secretary General Antonio Guterres, UNGA President Csaba Korosi and UNDP administrator Achim Steiner at Qatar National Convention Centre (QNCC).
On March 5, the Prime Minister is scheduled to deliver a speech at the opening plenary meeting of the LDC5 Conference as a special guest at the QNCC.
Then, she is scheduled to have separate meetings with Emir of Qatar Sheikh Tamim bin Hamad Al Thani, Rwanda President Paul Kagame, Secretary General of United Nations Conference on Trade and Development (UNCTAD) Rebeca Grynspan and Secretary General of International Telecommunication Union (ITU) Doreen Bogdan-Martin there.
Besides, she is scheduled to attend LDC5 high level luncheon on investment and partnership at QNCC. The Prime Minister is also scheduled to deliver a speech at a side event titled "Sustainable and Smooth Transition for the Graduating Cohort of 2021", to be arranged jointly by Bangladesh, Laos and Nepal.
On March 6, Sheikh Hasina would speak as the chief guest at a business summit, titled "The Rise of Bengal Tiger: Potential of Trade and Investment in Bangladesh" in the St. Regis Doha, and have meeting with Malawi President Dr Lazarus McCarthy Chakwera and participate in a side event tiled "Investment in Research and Development in LDCs for Smart and Innovative Societies" in the QNCC. She will join the Regional Envoy Conference at the place of residence.
On March 7, the Prime Minister is scheduled to attend a high-level dialogue on "Enhancing the participation of LDCs in International Trade and Regional Integration", hold a meeting with Denmark Minister for Development Cooperation Dan Jorgensen, attend an event titled "Global Partnership for Smooth and Sustainable Graduation: Marching towards Smart Bangladesh" as the special guest in the QNCC as well as join a civic reception to be hosted by Bangladeshi community living in Qatar.
Prime Minister Sheikh Hasina is scheduled to leave Doha for Dhaka in the morning on March 8 (Wednesday).
Foreign Ministry's public diplomacy wing director general Seheli Sabrin, in a briefing on Thursday, said Sheikh Hasina is expected to urge developed countries to continue trade privileges beyond 2026 that Bangladesh now enjoys as a LDC in view of global recession and COVID-19 impact.
The spokesperson said the Bangladesh premier would point out that the LDC and developing nations were worst victims of the pandemic while the Russia-Ukraine war rattled their economies more than that of the developed countries.
She said the Prime Minister would explain how the pandemic and the war slowed down the economic growth and created challenges for poorer and developing countries to achieve Sustainable Development Goals.