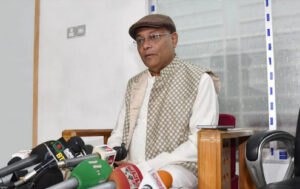 MOON Desk: Information and Broadcasting Minister Dr Hasan Mahmud on Friday said not only the ruling party but also all political parties, including BNP, have the responsibility to extend cooperation in holding a participatory, free and fair election.
"If any party boycott elections or tries to thwart it, then the liability will go to the party making the election non-participatory or unacceptable," he said.
Hasan, also Awami League Joint General Secretary, said these in reply to journalists about the rise of foreigners' visit in the country a year before the elections' while exchanging views on contemporary affairs at his residence at city's Dewanzi Pukurpar.
He mentioned that the issue of a free and participatory election got priority in the meeting of Awami League delegation led by its General Secretary Obaidul Quader with ambassadors of the European Union.
"We told them (diplomats) that we want the future government to be elected through a participatory, free, fair and transparent election. We also want all political parties including BNP to participate in the upcoming elections in the country. We are also telling it to other foreign organizations," he said.
He said Bangladesh has moved to 35th largest economy in terms of GDP in the world in the last 14 years leaving behind 25 countries under the charismatic leadership of Prime Minister Sheikh Hasina from its 60th position just in 2009 while Bangladesh stood at 31st position in PPP.
The rank of Bangladesh will rise further in the next few years, he added.
The minister said Bangladesh is now 'economically emerging tiger' so that different countries of the world are showing interest about Bangladesh.
That is why, visits of diplomats of different countries and various financial institutions and international organizations to Bangladesh have increased compared to the past, he mentioned.
It is quite natural that visits of foreigners will increase in the country as they have interests to work with Bangladesh which has vibrant economy, large and ever expanding market, he said.
About BNP Secretary General Mirza Fakhrul's remarks that they have no confidence in any election under this government, they must go to the election under the caretaker government, Hasan said, "It is my question why Mirza Fakhrul, being an educated man, is repeatedly saying election will be held under the government."
He said elections will be held under the Election Commission and the government only plays the role of facilitator during time of polls.
A polls-time government does not even have the power to transfer a police constable, he mentioned.
"During the polls, Bangladesh Awami League is a side in that election and in the same way BNP is also a side. We all participate in elections under the Election Commission," Hasan said.
There is no caretaker government anywhere in the world, except Pakistan, he said.
The information and broadcasting minister said it is a question why BNP follows Pakistan too much.
Noting that caretaker government will not be restored in Bangladesh, the minister said elections will be held in Bangladesh as like as all parliamentary democratic countries across the globe including India, Australia, Japan, the United Kingdom, Continental European countries.
He said current government will discharge the duties of polls-time government.
There will be no benefit by dreaming of holding elections like Pakistan, Hasan added.
The AL joint general secretary recalled that BNP joined the 2018 general elections amid hesitation while they torched 500 polling centers and killed several polling officers and many people in arson attacks in the name of resisting the elections of 2014.