Many Kashmiri students Injured in attacks by Hindu Goons in Bihar after T20 World Cup Final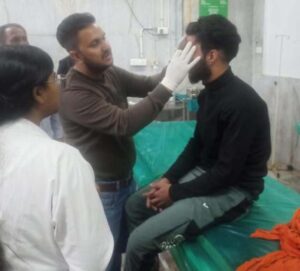 Qazi Mizan: Goons associated with Hindu extremist organizations assaulted Kashmiri students leaving many injured at a college in Moga district in Indian state of Bihar after Pakistan lost to England in T-Twenty World Cup final in Melbourne, Australia, on Sunday.
Hindu students from Bihar and other states of India attacked the Kashmiri students soon after Pakistan's defeat, on the premises of Lala Lajpat Rai College of Engineering and Management at Ghal Kalan village in the district.
Several Kashmiri students were injured in the attack.
The injured students were rushed to the district hospital. Nine of them have been admitted to the emergency ward. "Some students were discharged after first aid," said Dr Sukhpreet Singh Brar, senior medical officer of the hospital.
Kashmiri students, mostly belonging to Muslim community, were supporting Pakistan, while Hindu students raised slogans against Pakistan, which resulted into the clash.
The local police officials claimed that the situation was now under control.
A heavy police force was immediately deployed on the college premises and in and around the hostel.
Meanwhile, Kashmiri students said that students from Bihar and other states used foul language against their religion "When they pelted us with stones, we rushed to save our life and called to local police.