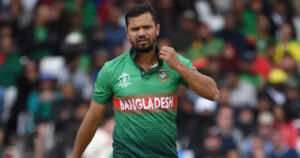 Sports Desk: Former Bangladesh captain and current lawmaker Mashrafe Bin Mortaza was awarded honorary life membership of London`s Marylebone Cricket Club (MCC) Wednesday.
In addition to the recognition given to players, the Club granted two honorary life memberships to individuals who made significant contributions to the sport.
The MCC Committee awards the membership to individuals in appreciation for their contributions to cricket and projects related to the game, often over a very long period.
The list of honourees for this year features prominent figures from eight out of the 12 countries that play in Test cricket, including some of the most renowned names in the contemporary game.
Merissa Aguilleira of West Indies (2008–2019), MS Dhoni of India (2004–2019), Jhulan Goswami of India (2002-2022), Jenny Gunn of England (2004-2019), Muhammad Hafeez of Pakistan (2003-2021), Rachael Haynes of Australia (2009-2022), Laura Marsh of England (2006–2019), Eoin Morgan of England (2006-2022), Mashrafe (2001-2020), Kevin Pietersen of England (2005-2014), Suresh Raina of India (2005-2018), Mithali Raj of India (1999-2022), Amy Satterthwaite of New Zealand (2007-2022), Yuvraj Singh of India (2000-2017), Anya Shrubsole of England (2008-2022), Dale Steyn of South Africa (2004–2020), and Ross Taylor of New Zealand (2006-2022) were awarded lifetime membership of the MCC in 2023.