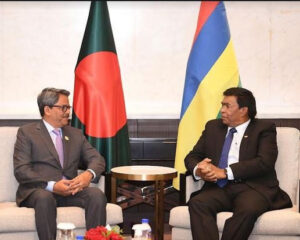 Moon Desk: Visiting Mauritius President Prithvirajsing Roopun today said his country can be the gateway for Bangladesh's trade and business in Africa.
He put emphasis on connectivity, people-to-people contact and a collaborative approach in economic and development areas for fostering the relations between Bangladesh and Mauritius as State Minister for Foreign Affairs Md Shahriar Alam called on him in the capital.
Expressing happiness over his first-ever visit to Bangladesh, the President of Mauritius mentioned the long-standing excellent relations between the two countries.
He highly lauded the remarkable socio-economic progress that Bangladesh has achieved in many areas.
Citing Mauritius as a multi-ethnic society, he expressed happiness over the role of Bangladeshi workers in that country.
He extended invitation for high-level visits from Bangladesh to Mauritius.
The Mauritius President is currently in Dhaka on a three-day visit in connection with 06th Indian Ocean Conference 2023.
Alam apprised Mauritius President about the tremendous socio-economic growth that Bangladesh has achieved as well as the 'Vision 2041' articulated by the Prime Minister Sheikh Hasina.
The state minister referred to the financial measures taken by the Government of Bangladesh in LDC-graduation context.
He thanked the Mauritian government for looking after the Bangladeshi expatriates living in that country.
He underlined more high-level visits, air connectivity, and exchange of training in agriculture, education, and IT sectors to develop relations.
The state minister thanked the Mauritian government for naming a street in Port Louis after the Father of the Nation Bangabandhu Sheikh Mujibur Rahman.
The Mauritius president visited the Liberation War Museum in Dhaka in the morning and signed the guest book.