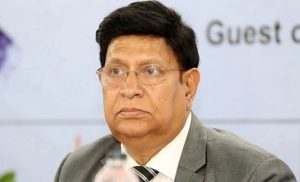 Moon Desk: A legal notice has been served to Foreign Minister AK Abdul Momen asking him to resign from his post within 48 hours for his recent controversial remarks.
Supreme Court lawyer advocate Md Irshad Hossain Rashed sent the notice to the minister by post on Sunday.
"After receiving the notice, if the minister will not resign within 48 hours, a writ petition seeking legal action against him will be filed with the High Court," it said in the notice.
Earlier on Thursday evening, the Foreign Minister said he requested the Indian government to do whatever is necessary to help Bangladesh maintain stability and harmony.
"When I went to New Delhi, I told the Indian government that Sheikh Hasina must be sustained. Bangladesh will continue to march towards development and will truly become a country free of communalism under her leadership," he said.
The minister made the statement while speaking as the chief guest at a Janmashtami programme in JM Sen Hall in Chattrogram.
Later, his statement sparked controversy on social media platforms.