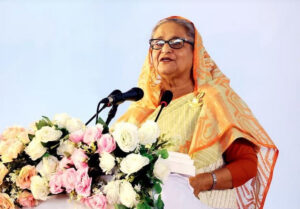 MOON Desk: Prime Minister Sheikh Hasina on Thursday said none can harm the Awami League (AL) government by staging any movement as long as the people are with it.
"You can (AL leaders and workers) keep trust that none can do anything by waging movement until the people are with us and we're working for people's welfare," she said.
The prime minister was addressing a civic rally that turned into a grand rally held at Purbachal of Patilganj under Rupganj Upazila in Narayanganj after unveiling the plaque of the construction work of the Mass Rapid Transit (MRT) Line-1 at sector 4 there.
The prime minister said another milestone was added to Bangladesh's development journey with the opening of the construction of country's first-ever underground metro rail after inaugurating the maiden elevated metro rail from Uttara's Diabari to Agargaon on December 28 last.
"The biggest thing of the metro rail is that it will not pollute the environment and it will be sound proof as modern technology is being used for it while it will also be run by electricity," she said.
The 31.241-km MRT Line-1 having both underground and elevated routes will be constructed at an estimated cost of Tk 52,561.43 crore by 2026.
Briefly describing her government initiatives for Bangladesh's overall development, the prime minister said the country is marching towards prosperity at indomitable pace in line with her party's slogan "Bangladesh on the march towards prosperity," stated in the 2018 election manifesto.
"Bangladesh has started its journey on the highway of development due to having continued democratic process since we assumed office in 2009. So, we have now become a developing nation and are considered as the role model of development in the world," she said.
The premier has sought cooperation from the countrymen to continue the development spree in the days to come as they (people) did so in 2008, 2014 and 2018 elections.
"We are fulfilling our promises one by one. If Awami League makes any promise, it keeps it," she said, referring to implementation of the Vision-2021 by making Bangladesh a developing country as per the 2008 election pledges.
The premier said her party had made another promise of easing traffic congestion, adding that this is why her government has been working on constructing six metro routes.
Referring to 2008 election in which all the political parties took part, Sheikh Hasina, also the Awami League (AL) president, said the BNP-Jamaat alliance only got 30 seats out of 300 while the AL-led grand alliance secured remaining others. "We've worked for the people's welfare. So, the people are voting for us. We're getting the trust and confidence of the people through our works," she added.
Mentioning that recently 'Boat,' the electoral symbol of AL, won in by-polls of Bogura and Chapainawabganj, the AL president extended her sincere thanks to those who voted for the boat.
The first underground metro line will have two parts — a 19.872-km part from Hazrat Shahjalal International Airport to Kamalapur (Airport route) and an around 11.37-km elevated line from Natun Bazar to Purbachal (Purbachal route).
The airport route includes 16.4-km underground with 12 stations, while the purbachal route includes seven stations.
To implement the MRT Line-1, Japan International Cooperation Agency (JICA) will finance Tk 39,450.32 crore, while the rest Tk 13,111.11 crore will be drawn from the government's fund.
Some eight lakh passengers will be able to travel by the MRT Line-1 every day. Passengers will take only 25 minutes to travel from Airport to Kamalapur with breaks at 12 underground stations and 21 minutes from Natun Bazar to Purbachal with breaks at seven stations.
Besides, passengers will be able to reach Purbachal from Kamalapur with an interchange at Natun Bazar station within only 40 minutes with breaks at 16 stations.
A total of six metro rail routes will be inaugurated in the capital city of Dhaka by 2030.
The Executive Committee of the National Economic Council (ECNEC) approved the MRT line-1 project at Tk 52,561.43 crore in 2019.
Road Transport and Bridges Minister Obaidul Quader, Textile and Jute Minister and Narayanganj-1 constituency lawmaker Golam Dastagir Gazi, Japanese Ambassador to Bangladesh IWAMA Kiminori and Chief Representative of JICA Bangladesh Office, ICHIGUCHI Tomohide, spoke at the function.
Road Transport and Highways Division Secretary A B M Amin Ullah Nuri gave the address of welcome and Managing Director of Dhaka Mass Transit Company Limited (DMTCL) MAN Siddique gave a brief description on the metro rail project.
Sheikh Helal Uddin, MP, Chairman of the Parliamentary Standing Committee on the Road Transport and Bridges Ministry Rawshan Ara Mannan, Narayanganj City Corporation Mayor Dr Selina Hayat Ivy, lawmakers of different constituencies of Narayanganj district Shamim Osman, Nazrul Islam Babu, A.K.M Salim Osman and Liyakot Hossain Khoka, were present on the dais.
A short video documentary made on the MRT Line-1 was screened while the theme song on the metro rail was also played at the function.