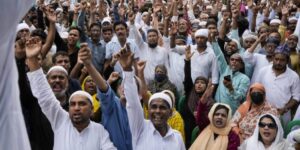 Moon Desk: The Muslim leaders have said that the Muslims have never felt so insecure, feeling under Bharatiya Janata Party-Narendra Modi government in India. The prominent minority leaders and intellectuals like Maharashtra Samajwadi Party President Abu Asim Azmi, All India Majlis-e-Ittehadul Muslimeen state President and MP Syed Imtiaz Jaleel, social activist Shabnam Hashmi and intellectual Prof. Zeenat Shaukat Ali open their hearts out as Indian Prime Minister Narendra Modi completes nine years in office.
These dignitaries generally admit this is the first time in the past 75 years that "Muslims feel insecure and are made aware of their 'religious background', and avoidable schisms are being created by certain majoritarian forces."
"It is visible that Muslims are being pushed to the wall, they are being jailed, implicated in false cases, and subjected to atrocities in many states. Systematic efforts are underway to erase their historic contributions or sacrifices – not just during the Independence struggle, but way beyond spanning several centuries. Terror is being created in their minds and the age-old 'Ganga-Jamuna tehzeeb' and traditions have been destroyed," said Azmi.
MP Syed Imtiaz Jaleel said the "sole reason the BJP and Modi have gone totally against the minorities is to consolidate the Hindu votes for their electoral politics, scare the minorities, and even others, especially if they don't vote for the BJP".
Social activist Shabnam Hashmi, the younger sister of the slain folk hero Safdar Hashmi, said, "Under Modi, India has already become a 'semi-fascist state', with blatant hatred being spread against Muslims or even Christians in the hearts and minds of the ordinary people."
"All democratic and constitutional institutions are subverted, the parliament has become a joke, there are lynching, attacks on Muslim women, convicted rapists are released by a BJP-ruled government, sending shockwaves among all sections of people. Muslims who used to carry out their small trades or businesses for ages are now being restricted or hounded out of many markets or religious places…" said Hashmi.
She also frowns at how the government is now "tinkering with the personal laws of different communities and attempting to push through the CAA and a Uniform Civil Code sans proper debate, which may not augur well for the country"'.
Intellectual Prof. Zeenat Shaukat Ali said that in any democracy, there must be equal treatment to all sections of society, "but that delicate balance has been tilted against the minorities under the Modi rule".
She cited a report of the Indian American Muslim Council listing 15 prominent schemes for Indian Muslims where the budgets have been "drastically reduced this year (2023-2024), which directly hampers the progress of the community at all levels, particularly the youth".