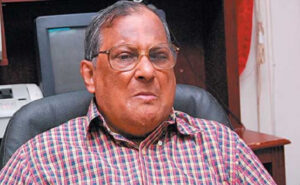 Moon Desk: The namaz-e-janaza of economist and former adviser to the caretaker government Dr Akbar Ali Khan was held at Gulshan Azad Mosque in Dhaka on Friday.
He will be laid to rest at Mirpur Martyred Intellectuals Graveyard.
Akbar Ali Khan breathed his last around 10pm on Thursday at the age of 78.
He fell ill and passed away before he was taken to a hospital in the city, said family sources.
Akbar Ali Khan was born in Dhaka in 1944. He graduated from the history department of Dhaka University and studied Economics in Queens University. He also had a PhD degree in Economics.
He was a sub-divisional officer of Habiganj during the War of Liberation when he decided to join the war. Later, he served as an official of the Mujibnagar after independence, he rejoined the civil service and reached the highest post of Cabinet Secretary.
Akbar Ali Khan held various positions including that of cabinet secretary in his career in the civil service. Upon retirement, he taught at two universities.
Khan was made adviser to a caretaker government but resigned from the position due to differences in discharging duties. Akbar Ali Khan dedicated himself fully to writing and his books on an array of subjects including economics, history, and literature get widely acclaimed by readers.
Akbar Ali Khan`s last book was his autobiography titled `Purono sei diner kotha`. The book depicts life a personality with diverse experiences and accomplishments.