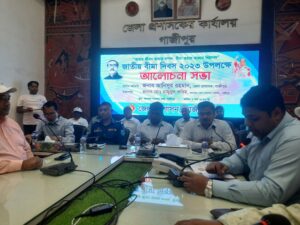 Md. Ashraful Alam Mondol, Gazipur: National Insurance Day 2023 was celebrated on Wednesday in Gazipur like all over the country. With the motto "My life is my wealth, if I insure it, it will be safe" in front of this slogan, the colorful procession left the front of the Gazipur district administration building at 10 am on Wednesday and circled around the important roads of the district city and ended back there. Later, Deputy Commissioner of Gazipur Md. Anisur Rahman was present as the chief guest in the discussion meeting held under the chairmanship of Additional Deputy Commissioner (General) Md. Mamunul Karim in the conference room of Gazipur district administration. Gazipur Superintendent of Police Kazi Shafiqul Alam, BPM was present as special guest. At that time, among others, office incharges and numerous officials of various insurance companies working in Gazipur district were also present.
Thanking the Hon'ble Prime Minister for declaring National Insurance Day on March 1 and highlighting the benefits of insurance, the Chief Guest said that insurance ensures financial prosperity on the one hand and also accepts the risk of life. The more developed the country, the more important insurance is.
He also said that Hon'ble Prime Minister Sheikh Hasina has given an institutional form to insurance. Through the formation of IDRA in 2010, she has brought all the insurance companies under one control.
In the speech of the special guest, the Superintendent of Police said that the importance of insurance is immense to transform a country into a prosperous and developed country. Care should be taken to ensure that people get their money as soon as possible after the expiry of the insurance period. The benefit of insurance should be delivered to the people by providing quick service.
Finally, the closing speech of the President declared the end of the program.