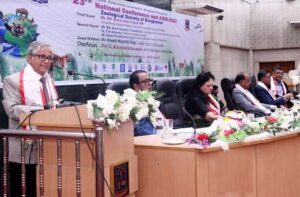 DU Correspondent: A day-long National Conference on "Biodiversity Conservation: Bangladesh Perspective" was held on Saturday at Nabab Nawab Ali Chowdhury Senate Bhaban of Dhaka University (DU).
Railway Minister Md. Nurul Islam Sujan, MP, addressed the conference as the chief guest while DU Vice-Chancellor Prof Dr Md Akhtaruzzaman presided over the inaugural function of the event, organised by DU Zoology department and Zoological Society of Bangladesh.
Professor of Jahangirnagar University Zoology Department Dr. Md. Mostafa Feeroz delivered key-note speech, said a press release.
Chief Conservator of Forests Md Amir Hossain Chowdhury, President of ACI Agribusiness Dr FH Ansarey, Chairman of Prokriti O Jibon Foundation Muqeed Majumdar Babu, President of Zoological Society of Bangladesh Prof Dr Hamida Khanum, Secretary Prof. Dr M Lokman Hossain, Vice-President Dr. Tapan Kumar Dey and Chairman of DU Zoology Department Prof Dr. Niamul Naser also addressed the inaugural function.
Sujan stressed the need for conservation of animal habitats to preserve biodiversity. Conservation of biodiversity is a constitutional obligation to all the citizens, said the minister.
Along with students, academicians, researchers and professionals from home and abroad participated in the conference.